26 January 2021
Virtual Reality Training: The Future of Learning and Development
Corporate training and development programs have followed traditional paths, usually with a combination of written materials, classroom lectures, outdated videos, online courses, and hands-on observation of an instructor regardless of whether the topic is production training, sales pitching, or leadership coaching. But as companies transform their businesses to be more digital, especially due to the corona crisis, the rise of virtual reality (VR) technology provides an opportunity to reshape traditional training methods to better serve a more digitally connected and diverse workforce. By using VR training, it is possible to create scenarios that are not only more engaging and immersive but also more effective and safer than traditional training methods.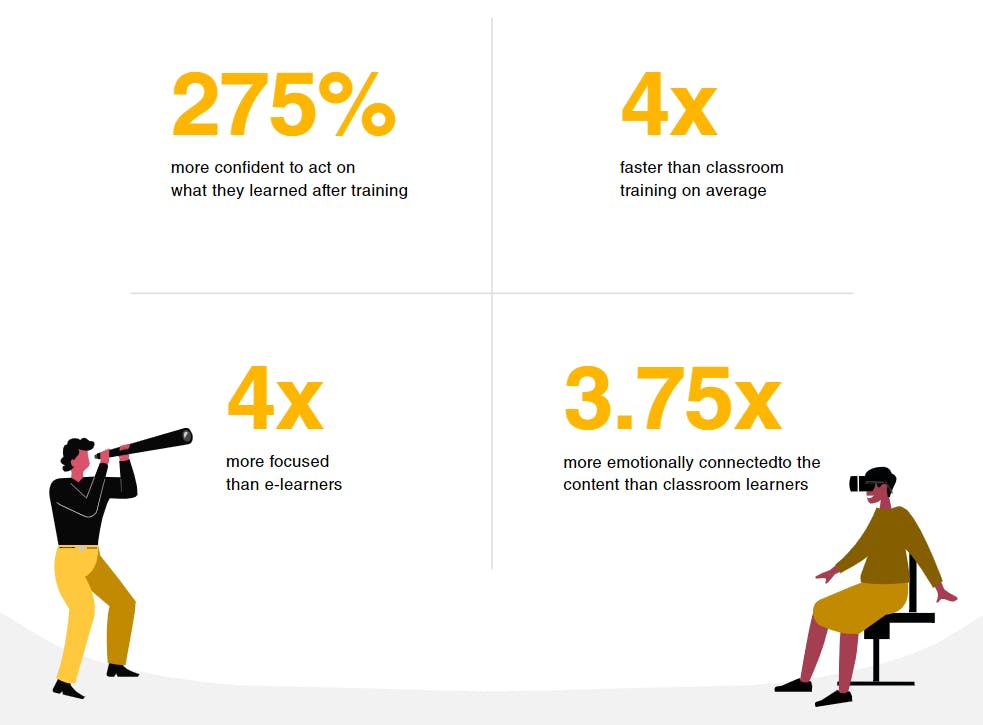 Challenges
Each day companies are faced with the challenge of upgrading existing employee skills to increase production performance and to train new hires to be production-ready with the basic technical, safety, and quality skills. According to go2HR  more than 40% of employees who receive poor job training leave their positions within the first year, so it is not uncommon for companies such as BMW to invest around 373 million Euro a year in employee training.
Huge sums of money are being invested in training across the globe, yet in many cases, the training procedures are not only outdated, slow and many times unsafe but do not clearly outline the complexity of the technical tasks they should teach. Longer training times, employees under-performing, and safety risks can have a hazardous domino effect on the industrial employer. Virtual Reality technology can not only close the gap between outdated training methods but also increase worker production, safety, efficiency, satisfaction, and overall task performance rates in the long run – when compared to training with traditional methods.
Market
According to the Artillery Intelligence report , enterprise VR will grow from $829 million in 2018 to $4.26 billion in 2023, a 39 percent compound annual growth rate. This includes any spending on VR technology from enterprise buyers, including deployed hardware, software running on VR headsets, and VR creation tools (e.g. Unity or Unreal). Employee training will be a key use case in industrial segments and retail.
Benefits
The benefits of VR for improving learning outcomes has been clear for some time. Companies across many industries have adopted the technology to train their employees better. Enterprises have seen dramatic cuts in costs and time spent training.
Using the headset and controllers or hand gestures, trainees look, speak, and move freely in a 3D virtual space, interacting with simulated real-world tools, machinery, and other trainees and instructors. Virtual reality is enabling workplace scenarios that were once too difficult, expensive, or dangerous to train for, become vastly more practical, cost-effective, and safe in an immersive simulation.  When combined with real-life simulations and learning curriculum developed by experts, the result is trainees learning in the best way possible — through personal experience — significantly improving learning retention, job performance, team collaboration, workplace safety, and cost.
Real-life situations and training scenarios can be created not only to make learning more interactive but also to bring students and trainees together, no matter where the location – improving the efficiency of training and potentially reducing the time required to train staff up to standard.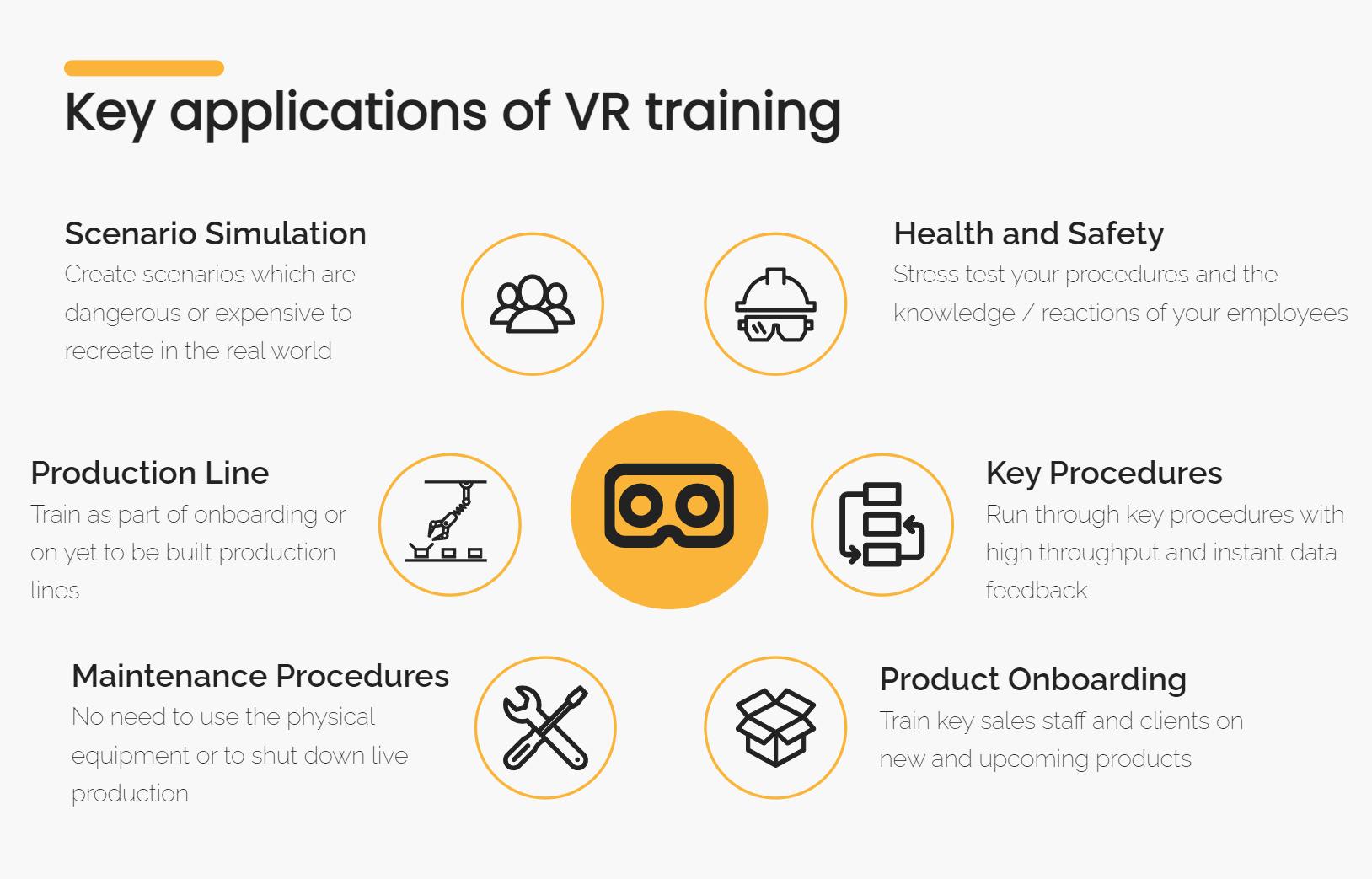 Another advantage of VR is that it's more in-depth compared to other training methods. As mentioned earlier, training in real-world scenarios is anecdotal. In contrast, actions in VR can be quantified so you can understand exactly how each action was performed. The result is a data-rich, contextual timeline of all the actions which took place during the session. This provides a reinforced feedback loop that results in continual improvements, making VR simulations an integrated component of the enterprises learning strategy.
One of the biggest advantages of using VR to train employees is the ability to iterate. By understanding which behaviors lead to success, you can encourage and redesign the training programs. This provides additional feedback and a deeper understanding of human behavior. The systematic approach to improving learning ensures that processes are followed to deliver best practices to the employees.
Put another way, let your employees make expensive and dangerous mistakes in VR and not in real-world scenarios where the stakes are much higher.
Related articles